I don't know about you, but I cannot remember a time when every spot in the Yankees infield is up for grabs. The thought came to me as I was reading about
Yulieski Gourriel
's interest in the Yankees and the Yankees interest in him. You can read the latest on him here:
CUBAN SENSATION WANTS TO PLAY FOR THE YANKEES
. Nothing sends a third baseman a message like your team's interest in another third baseman. Between Gourriel and
Starlin Castro
, Brian Cashman is keeping everyone on their toes. I think it's a good thing.
I've never liked players entering spring training with the assumption that they will get their position, and that spring training games are just a formality. Everybody should be earning their spots. That said, everyone in the infield will be earning theirs. Even without Gourriel, the team has a lot of flexibility in the infield. The Yankees finished 18th in the majors in fielding percentage and 16th in batting average. Those are mediocre numbers, which translates into terrible numbers for a team that abhors mediocrity.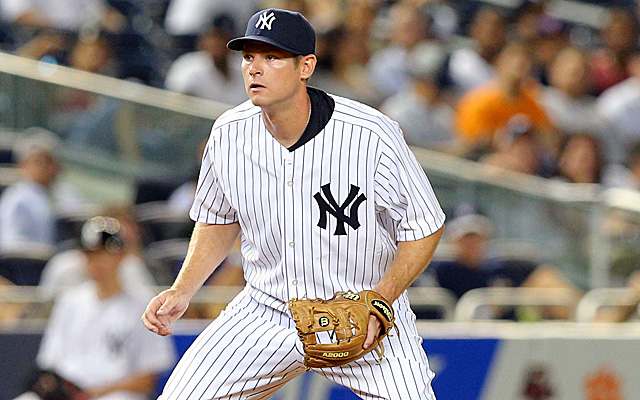 Chase Headley
was signed with the thought that he could play defense well and that he had a decent bat. In fact, he had a great bat at one point, and maybe he could find that swing again. Last year was a definite step back for him. While his average stayed within 5 points of his career average, his fielding percentage dropped by 20 points. In fact, he not only led the team in errors (23), he beat second place by 10. Was this an aberration? We hope so, but the Yankees aren't taking chances. If they cannot sign Gourriel, moving Castro over to third instead of second is an option. Castro is no wizard in the field - he had 24 fielding errors of his own. But at least he would be a 20-point upgrade in the batting average, given Castro's career numbers. That could open up second base for
Rob Refsnyder
. Remember that he was kept down because of concerns about his glove. He's hit .300 at every level in almost every season he played. If you're already tolerating mediocre gloves, you take a 40-point upgrade in the batting average.
Then there's shortstop.
Didi Gregorius
had a horrendous start to the season last year. He had a remarkable improvement in the second half. His batting average jumped nearly 60 points and his error rate was cut by more than half. The question is which Didi are we getting in 2016? If you see him start to falter in the field, remember that shortstop is Starlin Castro's primary position. Then the same line of thinking I outlined on Headley applies to Gregorius. You replace a mediocre fielding .250 hitter with a mediocre fielding .300 hitter. That's not even counting
Jorge Mateo
, who is probably not ready for the majors. But in a pinch, you never know what the Yankees will try. He is ranked #26 on Baseball America's Top 100 List. It's not as crazy as you think.
First base is a little different.
Greg Bird
's injury settles the short-term debate on who will start at first.
Mark Teixeira
will likely be the starter. But for how long before he gets hurt? If Chase Headley is having a good year, he could shift over to first and start the aforementioned infield merry-go-round.
Dustin Ackley
is also an option, as he filled in last year. The most intriguing possibility is if
Brian McCann
breaks in that first baseman's glove. It's been talked about for years. What makes it so intriguing is the opportunity to have
Gary Sanchez
behind the plate. He has been tearing it up in the minors and winter leagues. Many, including myself, think he's the natural fit for the backup catcher role in 2016.
There are a lot of options here. It's likely that the season will start with Teixeira, Castro, Gregorius, and Headley in the infield. By May, it could turn into something as different as McCann, Refsnyder, Ackley, Castro. The trade deadline will bring even more possibilities. The one good thing is that the Yankees can afford to let the players demonstrate who the best ones are, and they can field that team. I'm always liking that. Yet another reason why I can't wait for spring training to start.
--Ike Dimitriadis,
BYB Senior Staff Writer
Twitter: @KingAgamemnon
Thank you for your loyalty to Bleeding Yankee Blue.
Please shop at the BYB store!
On Twitter:

@BleednYankeeBlu
On Facebook, LIKE Bleeding Yankee Blue!
Don't forget to check out the BYB Hub.