You always have to love the one guy on a team that acts as the catalyst, the spark that raises the level of the team and gets everybody to play better than the back of their baseball card would tell. When that hitter steps into the batters box, you expect the game to change. You expect the other team to anticipate their inevitable demise. For the 2015-2016 Yankees, that guy is
Jacoby Ellsbury
.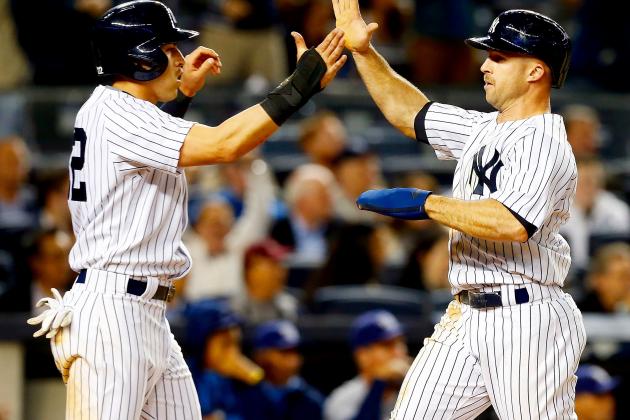 At first glance, he might not look like the type. Stealing home aside, he goes out there, does his job, and moves on tot he next game. When he is not hurt, of course. But I've read it on BYB and I've heard friends talk about how much better the Yankees are when Ellsbury - and
Brett Gardner
, for that matter, are hitting. So I decided to check out some stats, to see if the theory holds water. How much better are the Yankees when Ellsbury and Gardner get a hit, versus when they go hitless or are not in the game.
Yankees Win/Loss Record
2015
2016
Season Total
87-75 (.537)
8-10 (.444)
Ellsbury Gets a Hit
47-26 (.644)
8-3 (.727)
Ellsbury Hitless
13-24 (.351)
0-6 (.000)
Ellsbury Out
26-25 (.510)
0-0 (.000)
Gardner Gets a Hit
60-38 (.612)
4-4 (.500)
Gardner Hitless
23-30 (.434)
4-4 (.500)
Gardner Out
4-7 (.364)
1-1 (.500)
Ellsbury and Gardner Both Get Hits
32-13 (.711)
4-1 (.800)
Ellsbury and Gardner Both Hitless
12-24 (.333)
0-4 (.000)
It turns out the Yankees play a lot better when the natural 1 and 2 hitters in the lineup are productive. That should make sense to any baseball purist. The top of the order - especially the leadoff hitter - is crucial to the effectiveness of the hitters behind him. Facing the #3 or cleanup hitter with men on base is a lot more stressful on the pitcher, and makes the hitter more patient, knowing he'll get a pitch to hit. With the bases empty, you get the opposite effect.
The surprise for me was how dramatic the difference was in the team's performance between a productive Ellsbury and a non-productive Ellsbury. This has to be high on Alan Cockrell's and
Joe Girardi
's collective priority list. Just work with Ellsbury, make sure his swing and mechanics are right, and the rest of the hitters will follow suit.
It also puts last year's shenanigans with Jacoby Ellsbury's ability to play in a different light. This is a guy with whom you don't mess with his routine, his approach. You need him healthy and you need him in the right frame of mind. If his influence on the team produces these kinds of results, you have to figure he's a leader that can influence and motivate the guys behind him. Which is exactly what you want from your leadoff hitter. So pay close attention to Jacoby Ellsbury. Because as Ellsbury goes, so go the Yankees.
--Ike Dimitriadis, BYB Senior Staff Writer
Twitter: @KingAgamemnon
Thank you for your loyalty to Bleeding Yankee Blue.
Please shop at the BYB store!
On Twitter:

@BleednYankeeBlu
On Facebook, LIKE Bleeding Yankee Blue!
Don't forget to check out the BYB Hub.