A lot of Yankee fans were disappointed when
Raul Ibanez
bolted the Yankees to go back to the Seattle Mariners. However, I was not one of those fans. I felt Ibanez had a good run in New York, but it was time for the two sides to part ways. He hit some insanely huge home runs in both the regular season and postseason, but other than that he was pretty average. Average is something the Yankees don't need, the Yankees need a middle-of-the-order bat that still has plenty of gas in the tank, and one target the Yankees could go after is
Jason Kubel
.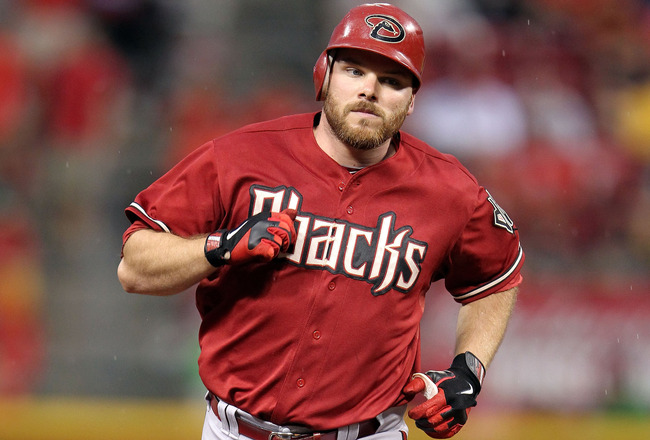 Kubel, 30, has quietly been a very solid player for the last several years with the Minnesota Twins and the Arizona Diamondbacks. Over the last six years (five with Minnesota, one with Arizona) and 3115 plate appearances, Kubel hit .270/.337/.474 with 124 home runs and 486 RBI. With
ARod
out for who knows how long, it would be great for the Yankees to fill the void with a power bat like Kubel, who could really benefit from the short right field porch in Yankee Stadium. Also, with Arizona
recently signing Cody Ross
, there are already reports that Kubel could be on the move.
Teams that have been linked to Kubel include the Yankees, of course, via Buster Olney,
HERE
. There's no word whether the Yankees have asked the D'Backs about Kubel, but with Ibanez signing with the Mariners, I'd have to think Brian Cashman would at least ask Arizona about Kubel if he hasn't already. Kevin Towers is the D'Back GM, and in fact, he was in the Yankees' organization just a few years ago as a scout. Perhaps he likes some of the minor league players the Yankees have and they could work out a deal. Either way, Kubel shouldn't come at a lofty price; he's a DH with one year remaining on his contract, so it'd be hard to imagine the two teams not coming up with a deal, unless Towers asks for the moon in return, or if Cashman completely low-balls an offer.
Maybe you have read this Kubel-to-the-Yankees rumor on other Yankee blogs, but BYB is throwing this idea out there because it makes sense.
Though Christmas is around the bend and these two sides haven't been linked yet, I'd have to think talks could heat up here pretty soon. Stay tuned with this one, Kubel could very well be your 2013 Yankee DH.
--Jesse Schindler, BYB Lead Staff Writer
Follow me on Twitter
@SchindlerJesse
Please comment, we have DISQUS, it's easier than ever. Let me know what you think and follow me on Twitter
@BleednYankeeBlu
and join the group
Bleeding Yankee Blue
on Facebook, just type it in.