Last night I had the pleasure of being at Yankee Stadium for the series opener against the Los Angeles Angels. We expected a pitcher's duel, with
Masahiro Tanaka
taking the hill against Angels starter
Matt Shoemaker
. If you believe the box score, it lived up to its billing and both pitchers pitched a great game. I had a different view, but more on that later.
The first thing I learned was that even though life isn't fair, sometimes unfair things get settled for one game. In the bottom of the first,
Jacoby Ellsbury
was called out trying to steal second. I was sitting in the Mohegan Sun Bar when the replay came up on the display, and he clearly looked safe with his foot on the base and the glove not having reached the back of his leg. When the out call was confirmed, I thought this was a disaster because we lost the replay appeal. Fast forward to the top of the 7th, when
Gregorio Petit
was called safe at second on what would be a double play.
Joe Girardi
came out to argue, and the umpire crew decided to grant the request for a replay review, which overturned the safe call. Sometimes life does work out.
Going back to Masahiro Tanaka, I learned that sometimes the box score lies. Pitching seven innings and giving up 2 runs sounds like a great line for a starting pitcher. Except that in this case, the pitcher did not pitch nearly as well as the line would indicate. From the first inning to the seventh, Angels hitters were driving the ball with authority. They had the misfortune of hitting their lasers right at or pretty close to one of the outfielders. By my count, 10 of the 21 outs recorded by Tanaka were either line drives right at outfielders or took the outfielders to the warning track. That doesn't count the ground rule double on one bounce or the hits that were hard enough to short hop the outfielders. Those were kept to singles and easily would have been doubles had they been 10 feet in either direction from where they landed. I was waiting for Tanaka to come undone, but thankfully he dodged a few bullets tonight.
I learned that even struggling teams have good nights. By the time we were in the 7th inning stretch, we were down 2-0 and I was expecting another no-contact night. As I was staring at the huge gap in the left side of the infield and outfield,
Brian McCann
just missed a home run to right field. The next pitch appeared to be in the same exact spot. As they say in baseball,
"he didn't miss that one."
Starlin Castro
followed with another home run to left field, though he watched it sail off a little too long. I am betting he may get hit tomorrow, but hopefully not. Either way, the next inning
Jacoby Ellsbury
reached with a 2-out base hit for the second straight at-bat. Only this time,
Brett Gardner
didn't ground out to first - he moved Ellsbury to third on a bloop single.
When
Carlos Beltran
, who was called out on strikes in his previous at-bat took the first pitch for a strike, I thought the Yankees were finding another way to lose. Yet when I saw that next pitch come off Beltran's bat, I jumped and screamed that ball through the full arc of its path into the right field seats.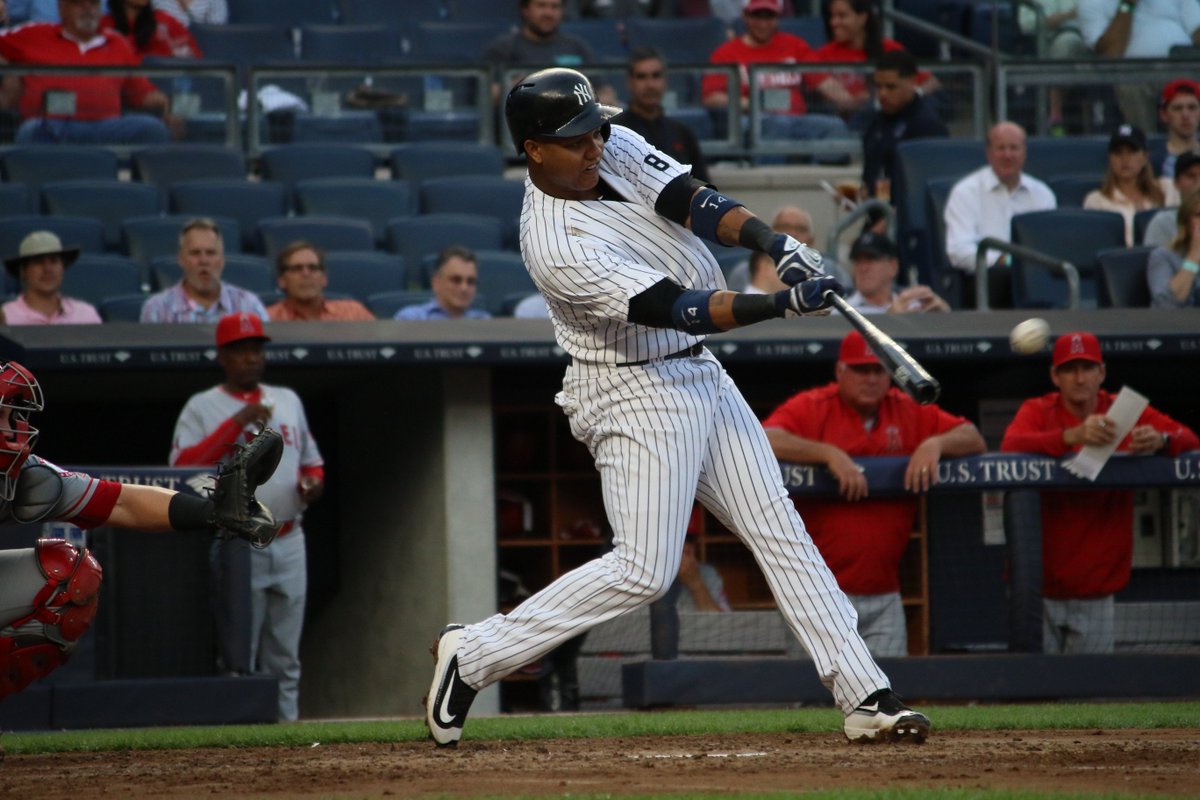 I learned that I miss feeling the excitement of a late-game comeback win in the Bronx. Too often lately this team has coughed up games it should have won and failed to perform when even a little production would have earned them a win. I also learned that I am not alone in that feeling. Tonight's attendance was a sparse 34,648. It reminded me of the old days, before 1996, when fans did not expect big wins from the Yankees.
Finally, I learned that games like these are best enjoyed with friends. I was at the game with my friend Sanjay from work. He's a good guy and we watched the game as we talked about baseball, life, talked about our faith, and a little bit of work too. He participated in a few rounds of the wave going around the Stadium, but this can be forgiven because, like I said, he's a good guy. I'm just glad we weren't sitting in section 203.
:)

--Ike Dimitriadis, BYB Senior Staff Writer
Twitter: @KingAgamemnon
Thank you for your loyalty to Bleeding Yankee Blue.
Please shop at the BYB store!
On Twitter:

@BleednYankeeBlu
On Facebook, LIKE Bleeding Yankee Blue!
Don't forget to check out the BYB Hub.