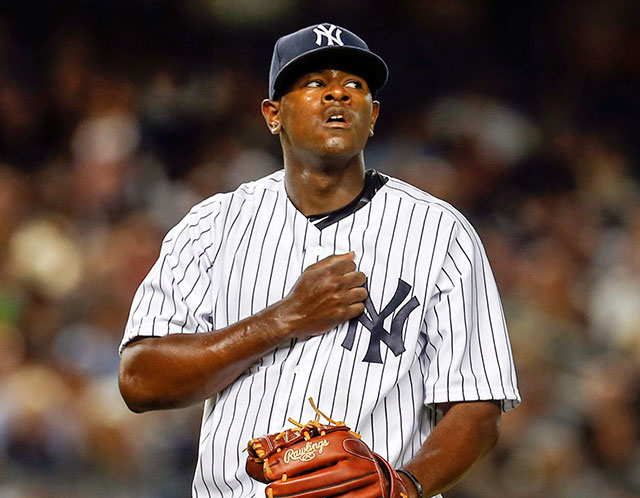 I have always believed that winning starts with your starting rotation. You show me a rotation where the first three starters are at the top of the league, and I'll show you a team that will go far into the postseason, even if they have average starters in the 4-5 and long reliever slots. It is why the Yankees hopes have to revolve around
Nate Eovaldi
and
Luis Severino
. I think they're both going to have great years.
My friend and fellow BYB writer Dan Lucia already gave you the rundown on Eovaldi in
COULD NATHAN EOVALDI BE OUR ACE?
and he makes good arguments why he could be the ace. I'll focus on Severino. Luis Severino had as good a year as a midseason rookie call-up can have. From August 5 through the end of the season, he had 11 starts, with 8 of them being quality starts. He had a 2.89 ERA and held opposing major league hitters to a .229 batting average. For a rookie season, that's impressive. He really only had one bad start against Toronto, but that's going to happen. Remarkably, that start is the only start in his short career where he was charged with more than 3 runs. There's a lot of poise in that kid, especially when you consider the pressure he was under.
I expect him and Eovaldi to be the mainstays of the starting rotation. CC Sabathia is pitching with a brace, Masahiro Tanaka is not sure if he'll be able to pitch on opening day before even showing up to spring training, and Michael Pineda will eventually need time off to nurse whatever injury will pop up. It's inevitable that the other three members of the rotation will miss time. With Severino throwing 90-100 pitches per start and pitching well, he'll be a key foundational member of the team.
A couple of weeks ago, he was asked if he thought he could be the ace of the staff, and he answered yes. Some tried to make a big deal out of that, but I like his mental approach. He has to know, like we all do, that the #1 spot in the rotation is up for grabs. I like his ambition, and I like how he has performed so far. Of course, this will be his first full season, so he still has things to prove. But people have been saying that with each of his accomplishments in the Yankees organization for the last 5 years. He will turn 22 next week, which gives him a lot of upside when you consider his future. Right now, he'll be focusing on the present which, while Yankees pitching may not be in pristine shape, kids like Severino gives me hope that we're on our way to developing a top-shelf rotation.