The Yankees have had many great rivalries, ones which often spilled beyond just the game of baseball. Tempers often flared up, emotions ran high, and most of us remember where we were and how we yelled at the TV when certain fights happened. I thought it might be fun to take a walk down memory lane and look at the top 10 fights in Yankees history. One disclaimer, though. These are from my recent memory. So, you'll forgive me if I missed that one fight in September 1938. I mean, these memories are not just about what happened. It is about how it made us feel as it was happening. If any of these still make your blood boil, join the club and grab some popcorn!
10. Graig Nettles kicks George Brett in the head
It was the 1976 ALCS in the winner-take-all Game 5 (it was a best of 5 back then) and
George Brett
hit a triple to the wall. Brett was coming into third and
Graig Nettles
was close to the bag. As Nettles stepped away, it became clear that Brett wanted to knock him over – so much so that his momentum caused him to fall forward. That put his head in perfect position for a subtle kick from Nettles. Brett got up and took a not so subtle swing at Nettles. Nettles was quickly on top of him pounding him into the artificial grass while the benches cleared. When it ended, they were tending to Brett, who looked a mess. If you look carefully at the video, Nettles needed no attention. He picked up his glove and took his position as if it was all in a night's work.
9. Jesse Carlson Throws Behind Jorge Posada
September 15, 2009. With a 9-2 lead, Toronto reliever
Jesse Carlson
, retaliating for Aaron Hill being hit earlier in the game, threw a pitch behind
Jorge Posada
. Clearly angered but maintaining his composure, Posada got on base and came around to score. After crossing home plate, his fist found Carlson's forehead. Benches cleared, Posada was ejected, and the camera got a shot of a nasty gash on Carlson's forehead. This is what happens:
8. 2000 World Series: Roger Clemens Throws the bat at Mike Piazza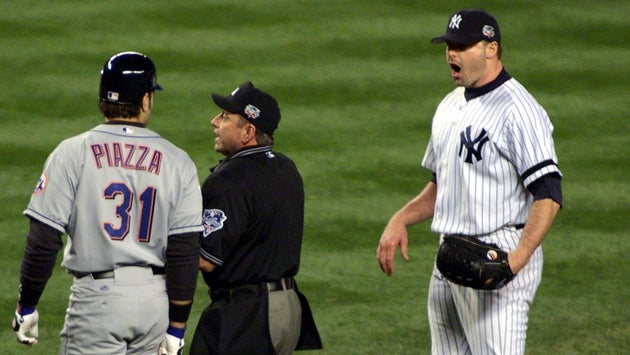 It was Game 2, and tensions between
Roger Clemens
and
Mike Piazza
were already running high. Clemens had hit Piazza in the head in July of that year, and this was a showdown. Piazza breaks his bat on a foul ball, a shard of it bounces towards Clemens, who grabs it and throws it at Piazza. Benches cleared and there was some shoving. It escalated an already fierce rivalry. Cooler heads prevailed, and the Mets would not be able to settle the score until June 2002. That is when Clemens had to pitch at Shea Stadium and take an at-bat, and everyone anticipated Clemens being beaned by Mets pitcher
Shawn Estes
. He missed. I still laugh about it.
7. 2003 ALCS Karim Garcia and Jeff Nelson vs. the Grounds Crew Member
This series was filled with fights, and it will get more than one entry in this Top 10. This one, however, was just bizarre. The benches had already cleared earlier in the game, and the atmosphere was heated. According to
Jeff Nelson
, a member of the grounds crew had begun antagonizing him in the bullpen, and a fight ensued. Right fielder
Karim Garcia
, who had been hit earlier in the game, sees this and jumps the wall to help his buddy Nelson. After they restored order, they took the guy to the hospital and kept him overnight. He appeared the next day in a neck brace. Was it real? I have my opinion, but we will let you decide.
6. Reggie Jackson vs. Billy Martin
It was June 18, 1977, and the Yankees were in Fenway Park. In a tight race for the AL East, the Yankees were down 7-4 in the sixth.
Reggie Jackson
lets a
Jim Rice
fly ball drop in front of him, which Rice was able to stretch into a double. Reggie was never a superstar fielder, but manager
Billy Martin
thought he should have gotten to the ball. He decided to send Reggie a message with a fielding substitution, sending
Paul Blair
out to play right. Reggie gets to the dugout and the shouting ensued. The two had to be separated, resulting in one of the most epic moments of the 1970's Yankees.
Well, that is all for now. Next week we will have one through five. Think you know which ones will be on the list? Let us know if we got it right, or if there are any which HAVE to be on the list.
--Ike Dimitriadis,
BYB Senior Staff Writer
Twitter: @KingAgamemnon
Thank you for your loyalty to Bleeding Yankee Blue.
Please shop at the BYB store!
On Twitter:

@BleednYankeeBlu
On Facebook, LIKE Bleeding Yankee Blue!
Don't forget to check out the BYB Hub.